"All my life I've had one dream: to achieve my many goals." Isn't every quote from The Simpsons as relatable as that? – but, do you wish you found them sooner? Well, there's a Simpsons Search Engine called Frinkiac that could come in quite handy for all those times you need to quote The Simpsons, but your memory fails you – and if rumours are to be believed, it is apparently better than Google!
Want to find the exact moment when Donald Trump appeared or Mr Burns was shot? Well – to tell you the truth – with Frinkiac, it has never been easier! The Simpsons is the longest-running cartoon in the history of the US and not only has it been called the funniest of all time – but also the most relatable! It predicts the future sometimes, like a trained psychic, and even we atheists don't know how to explain that! Its like a Genie.
There must have been a few times in your life when you go "D'oh" because something that's happening right in front of your eyes – like the siege of the US Capitol Hill Building – has already been predicted by the Simpsons and The Simpsons Meme was all over the internet! Their 1996 episode "The Day The Violence Died" saw the riots coming besides the presidency of Trump and his orange hair, which has ended thankfully!
How do they do it, every single time? Well, there's no answer to that one – but are we living in a Truman show? Well, that's for all of you to ponder. "Why must life be so hard?" – At this point, if you're wondering how am I quoting The Simpsons left and right, well, let's get back to Frinkiac search engine – that's the superpower I've possessed and you can, too!
---
This isn't a Frinkiac review – but if you think it is, we hope you agree it's a good one:
1. Named after Professor Frink, Springfield's favourite eccentric scientist, Frinkiac lets you access more than 3 million screengrabs:
One site that covered the first 15 seasons, when Frinkiac came into existence in 2016 – because the makers couldn't stop quoting The Simpsons all day from their memory –  and now perhaps 17, Frinkiac lets you browse for 3 million screenshots from all episodes!
You can search them via tags, or words you remember about the particular quote – and D'oh! You'll have your screenshot.
2. Search a term – find it and meme it too:
When you search a term, Frinkiac will find frames for you – and then you can add texts to it so that you're able to make The Simpsons Meme for your next social media post! Isn't that remarkable? Now it'll also do it for you, and if that wasn't enough, wait till you get to the next one.
3. They listen to their fans and that's how Frinkiac have GIFs too:
So when these guys came out with their website Frinkiac in 2016, someone said it'd be perfect if they had the option to make GIFs too on Frinkiac – and guess what? The makers actually heard his plea, made a note about that and introduced the feature in Frinkiac!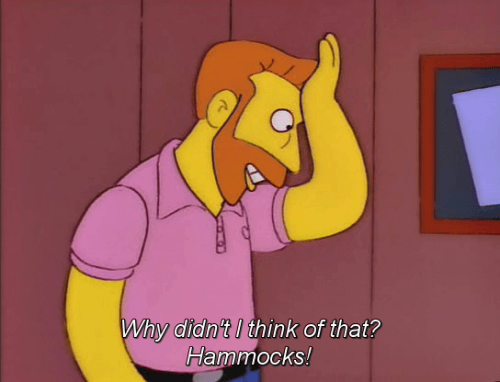 Well – at this point if you're The Simpsons Meme "Why didn't I think of that?" – you can go up to Frinkiac, create a GIF of up to 4 seconds – which will have a total of 19 frames! They have very quick processing time too – and with this feature, you have to no longer rely on the GIFs available already on the internet because Frinkiac is definitely a godsend!
4. Frinkiac gives you more power so you better use it responsibly:
If having 3 million screengrabs from the legendary show The Simpsons wasn't enough, and the power to make GIFs and memes out of them, Frinkiac also lets you share to all social media platforms – directly and easily.
Frinkiac has easy-to-share buttons & integrations with Facebook, Instagram, Twitter or Tumblr, for that matter! Now that you have been thrust with power – remember with great power, comes great responsibility, fellas!
5. Random word searches can lead to a tour down memory lane, or in this case, Frinkiac leads you to Evergreen Terrace of The Simpsons:
When the makers were busy building Frinkiac, one of the genuine concerns they had were how would other people be searching for the quotes! They started from what seems like an encyclopedic memory of every episode – but to streamline searches, you have to have some memory of the quote or the person you're looking for in Frinkiac!
That way, it can get a little tricky sometimes – and the makers of Frinkiac do acknowledge this! They are always looking for better ways and coming up with newer additions and innovations to the Frinkiac website to make it better. So someday it might be possible to search on Frinkiac with just the character name, or the scene, and you won't have to remember terms!
---
That being said & done, we can all decide on how great Frinkiac is – and it keeps getting better! But, we can also collectively agree on The Simpsons being greater! With that parting thought, here go the top three times The Simpsons almost predicted the reality other than the latest US Capitol siege, rioting & Trump Presidency:
The Coronavirus & the pandemic:
Well – yes, they saw that coming too! 1993 is when they ran a bunch of episodes about 2020. In Season 4, Episode 21, they showed an Asian flu called The Osaka Flu – and dangerous rioting! Sounds like the 2020 year we had, right?
The Facetime & smartwatches:

It was way back in Season 6, Episode 19 – they predicted future technology, just like Star Trek is known for doing! On Lisa's wedding, we see Marge talking to her daughter on the phone – using a video! And, that's how folks FaceTime came into the picture way before it was invented. Lisa's wedding also features smartwatches – which is a popular invention that took the globe by storm way later!
FIFA's corruption & World Cup results:
Germany won the World Cup – and they predicted it in Season 25, Episode 16 – and they even predicted the corruption that lay under the hood – and in real life, a series of official arrests took place & the world went bonkers!
---
Well, that's all for the die-hard Simpsons fan, today – to get your hands on more, check out Frinkiac for The Simpsons and until then, "let that be a lesson to you, sweetie, never love anything!"