The sun is shining, the birds are singing—get out of that gaming chair and leave your rig behind! With a portable gaming setup, you can get some of that fresh air your normie friends are always talking about without missing a beat of CS:GO.
And we're not just talking about slipping an old laptop and headset into your backpack. Next-gen portable gaming gear is here, and it's making portable rigs look better and play better than ever.
We're going to share 5 of the coolest portable gaming accessories hitting shelves this year. And, we'll tell you how to assemble a full-fledged 4K multi-display gaming entertainment system that weighs less than a gallon of milk.
5 Gadgets for On-The-Go Gaming
These accessories are for serious gamers who want to take their A-game on the road. But be warned: Once you switch to a mobile rig, your old desktop will never seem the same again!
Audeze Mobius Headphones
Pros:
3D immersive sound

7.1 surround sound ready

Wireless

Comfortable
Cons:
The Audeze Mobius gaming headphones are widely regarded as the greatest gaming headphones ever made. They were even chosen as IGN's best high-end gaming headset of 2019.
Mobius allows you to step into another world just by putting on a pair of headphones. They combine Grammy-winning DSP technology with state-of-the-art magnetic drivers to create an entire landscape of sound.
You can hear everything in the world of your games as if you were really there. Not only does this enhance the thrill of play, but it also boosts your abilities during those crucial moments of combat. You'll be able to hear the little details that others can't, and you'll know exactly how far your enemies are from you.
And this goes for any game you can imagine. The Audeze Mobius connects to any gaming rig or device made in the last century thanks to Bluetooth, USB, and Aux compatibility.
The battery life is also stellar in wireless mode. You can enjoy over 10 hours of uninterrupted gameplay even at high volumes.
Finally, the crystal-clear mic is detachable, which makes portability slightly easier.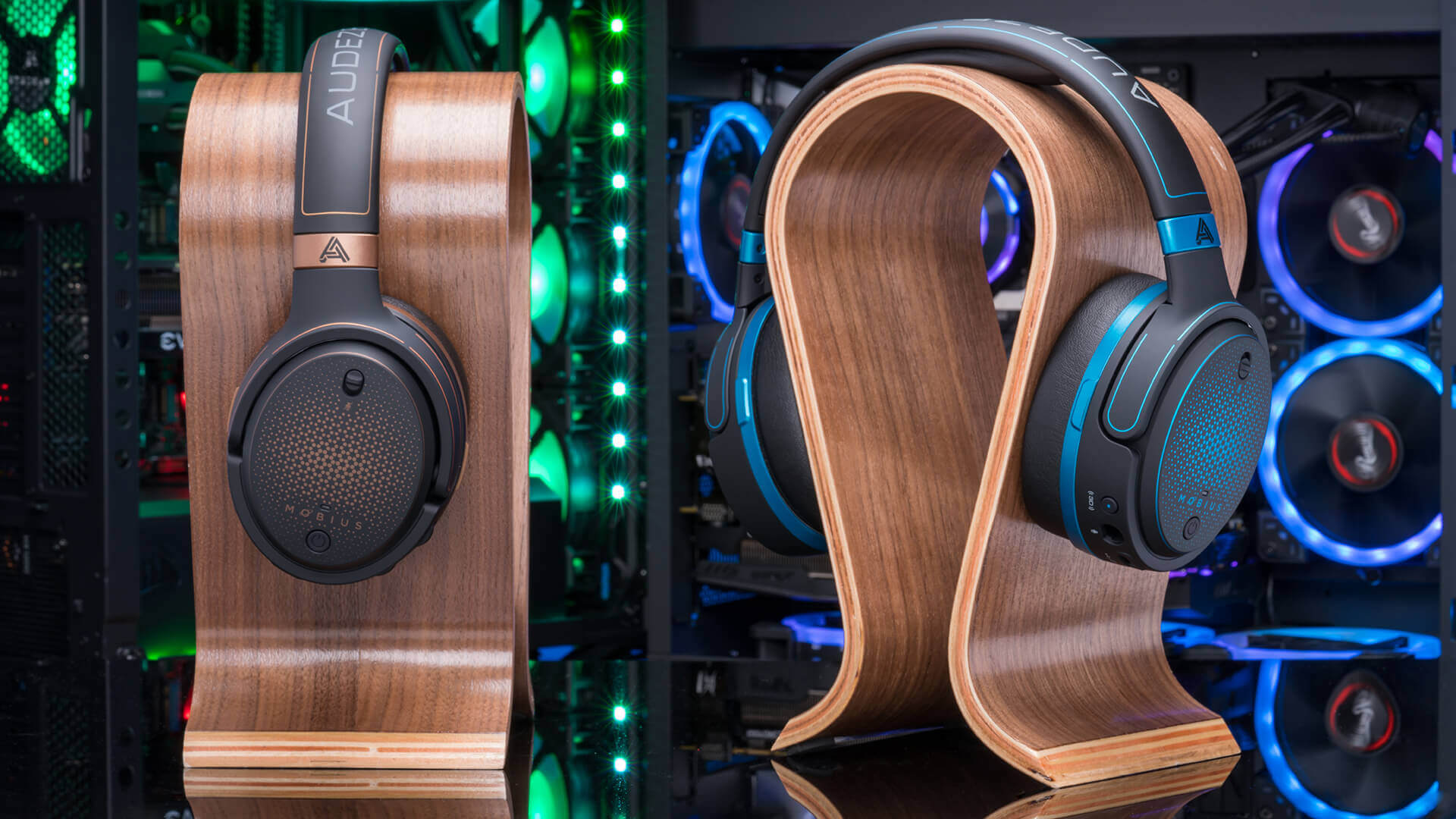 That brings us to the negative aspect of these headphones: They're a bit big and clunky for a portable gaming setup.
So, why do we recommend them? We think it's worth going all out on the very best pair of gaming headphones for your mobile setup. If you're playing on the go, the external sound is going to be your greatest distraction. You need headphones that are going to put you in the zone and keep you there no matter where you are. And those are the Audeze Mobius.
And it's not all bad. They might be big, but they're lightweight at just .75 lbs.
Lumonitor 4K Portable Display
Pros:
15.6" 4K touchscreen

Internal power source

Built-in audio

Amazingly light and thin
Cons:
Not yet available

Protective case sold separately
Lumonitor is the best thing to happen to mobile gaming since the invention of the GameBoy. Well, at least it will be when it hits the gaming scene in late 2020.
This versatile monitor puts brilliant ultra-HD 4K into a package that's unbelievably light and thin. Yet it has a screen that's astoundingly wide (15.6"). It's going to be the new standard of mobile gaming once it launches, especially because it's universally compatible with everything.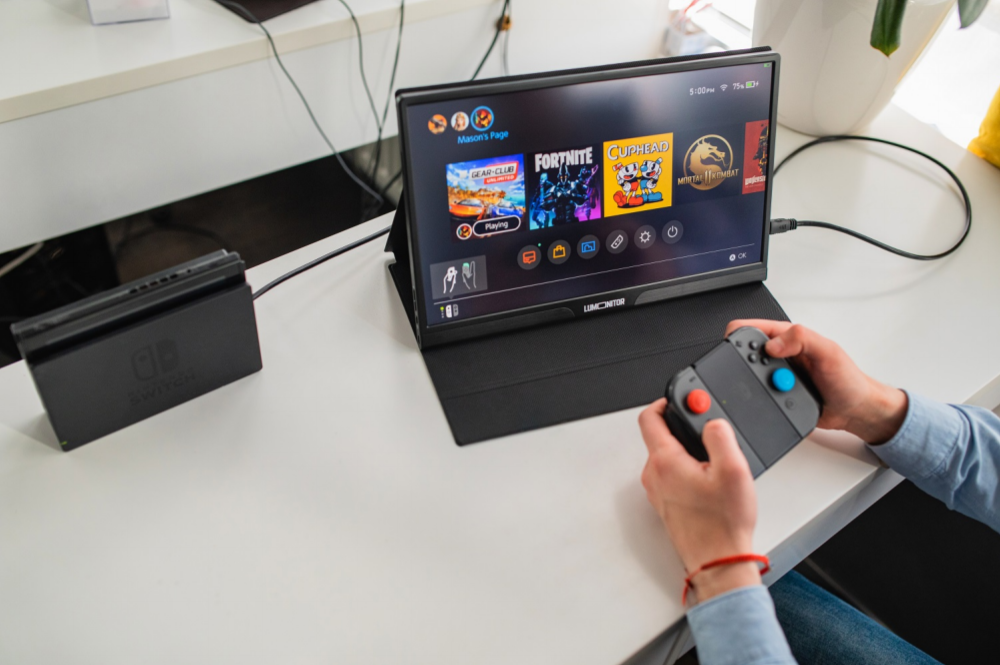 That's right, it doesn't just add an extra display to your computer. It can turn your phone, console, tablet, Raspberry Pi, or anything else into a 4K touchscreen.
But to keep things focused on your portable rig: Lumonitor is the king of displays for a few reasons:
It's got its own power source:

Other monitors drain your devices and make gaming basically useless. Who wants to play for just an hour?

Zero latency:

No audio/visual lag between devices.

It has an excellent response rate:

<10 ms isn't the best clock but it's good enough.

It saves your settings:

Never have to readjust your monitor's settings again. Lumonitor remembers.

It charges your devices:

Lumonitor will share its power with your devices to ensure your gaming session lasts as long as possible.
Oh, and did we mention it's a huge 4K screen?
We did? Oh, ok.
When it comes time to pack it up, Lumonitor travels very well. At just 6mm wide, it slides into your computer sleeve beside your laptop with ease. You can even fit a couple of Lumonitors in there, which is something you might want to consider. Lumonitor has an internal power source, so you can add an infinite amount of them to your laptop without affecting the quality or battery life of anything in your setup.
The bad news is that you can't get your hands on a Lumonitor just yet. But there is good news too.
Lumonitor pre-orders include a massive 44% discount off the retail price, so you can get one (or two) for a steal. If you pre-order, you'll get yours with the early adopters in October. If you wait… well, you might be waiting a while. Lumonitor is expected to be in high demand come holiday season!
You can pre-order yours now at lumonitor.com.
ZMI PowerPack 10K USB-C Power Bank + USB Hub
Pros:
Lightweight

Power bank + USB-C, USB-A, Micro USB hub

Award-winning design
Cons:
May not have enough power for marathon gaming sessions
When you're gaming on the go, you need your devices to work double time. That's exactly what the ZMI PowerPack does. It's a 10,000 mAh power bank and a USB Hub. By adding all the USB ports you need, you'll be able to travel light while still being able to hook up all your essential accessories. If you combine the ZMI PowerPack and Lumonitor, you won't need a dock for extra ports at all, which means you'll have a more accessible and compact portable rig.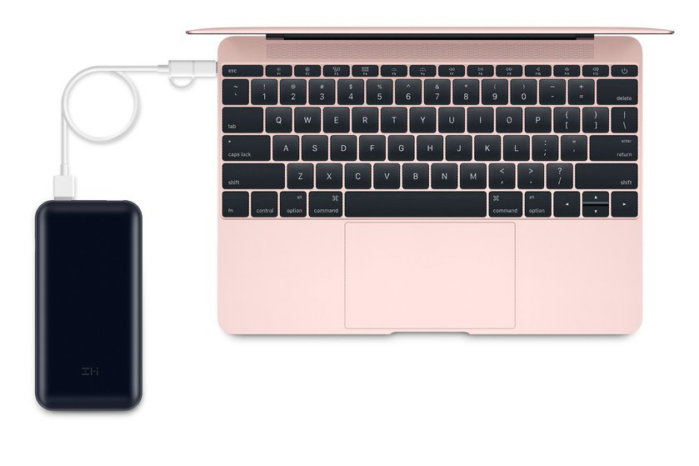 Aside from its versatility, the ZMI PowerPack is known for its award-winning design (it won the Red Dot Design award in 2019). Its woven fabric exterior resists shock and slips. Plus, it's about the size of a standard iPhone, so it's very pocketable.
The only negative is that it doesn't punch above any other standard power bank in terms of charging speed or power capacity. This could e a problem if you need it for some serious game time or need to keep multiple devices charged.
The reason we chose the ZMI over other power banks was for its ports and lightweight design. Other power banks hold up to 5x more power, but they are heavy and can get hot—not great when you're taking your PC gaming on the go.
Logitech G305 Mouse
Pros:
Incredibly light

Logitech's Hero sensor

250 hrs on just 1 AA battery

Affordable
Cons:
Might be too small for some
The Logitech G305 is a brand new 6-button gaming mouse that begs to be taken out of the house. It's small, sleek, and maybe the lightest wireless mouse we've ever used (just 3.5 oz).
But just because this mouse seems bare-bones doesn't mean it is. It's got everything you need to game with the best, including Logitech's brand new Hero sensor. The Hero sensor is basically an upgrade to Logitech's famed G502 sensor. The Hero has the same flawless sensitivity but runs much more efficiently. That's how the G305 is able to pull off a whopping 250 hours of life on just a single battery.
Even if you play for 5 hours every single day, you could get nearly 7 months of gameplay from just one 4-pack of AA batteries. When you're talking portability, fewer batteries rolling around in your bag is always better.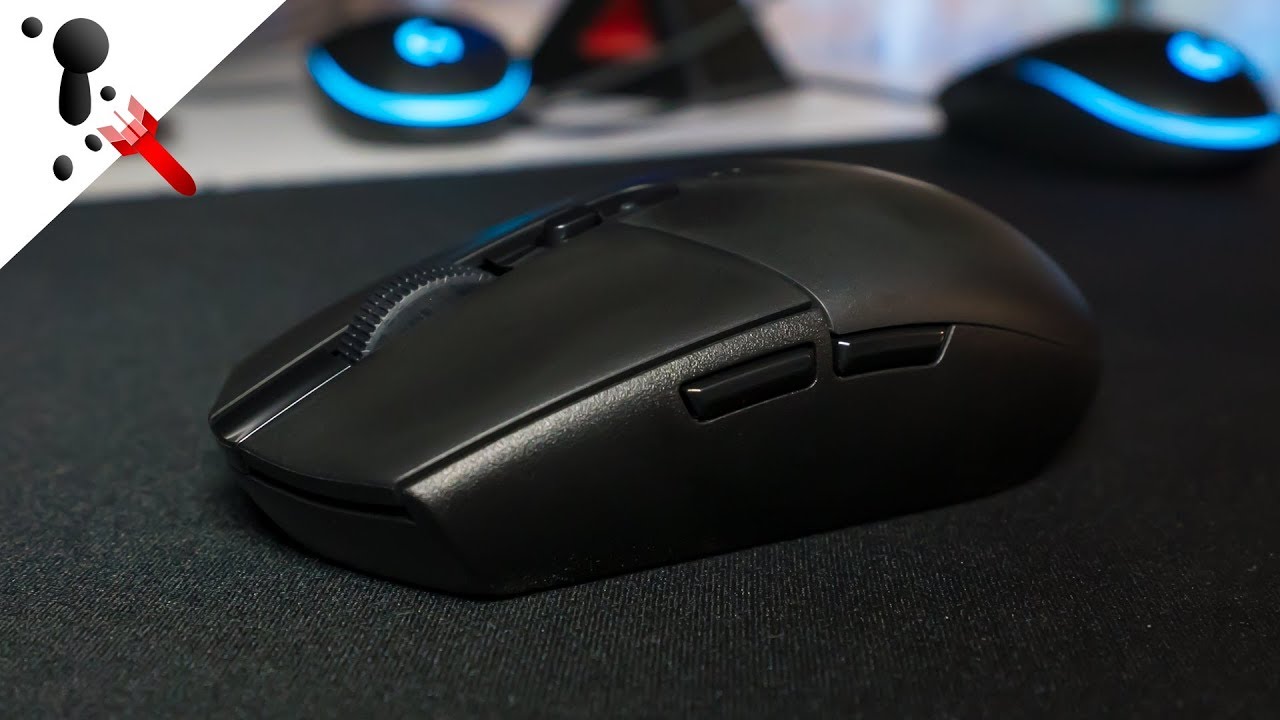 To make this little mouse even more attractive, it comes at a pretty affordable price point despite being a new model with premium features.
Don't get us wrong—it's not the end-all-be-all of mice. If you're looking for a mouse for a desktop setup, you might want to choose something a bit sturdier. But as far as portability goes, the G305 is as good as it gets.
Logitech Brio 4K Pro Webcam
Pros:
4K clip-on webcam

Super light and mini

The best clip-on image quality on the market
Cons:
Clip is a bit flimsy

Expensive
We finish our list with yet another killer accessory from Logitech. This webcam is just as portable, lightweight, and all-around impressive as the G305 mouse we previously reviewed. For streamers, you won't get a more versatile array of features or better picture quality from a clip-on camera.
The Logitech Brio 4K Pro, as the name suggests, brings brilliant 4K to the world of portable webcams. You might not think you need to show off your streams in 4K, but once the other guys start doing it, you don't want to be left in the dust. Plus, if you already have 4K accessories like Lumonitor, then you have no reason not to make your entire portable rig 4K compatible (you know you want to!).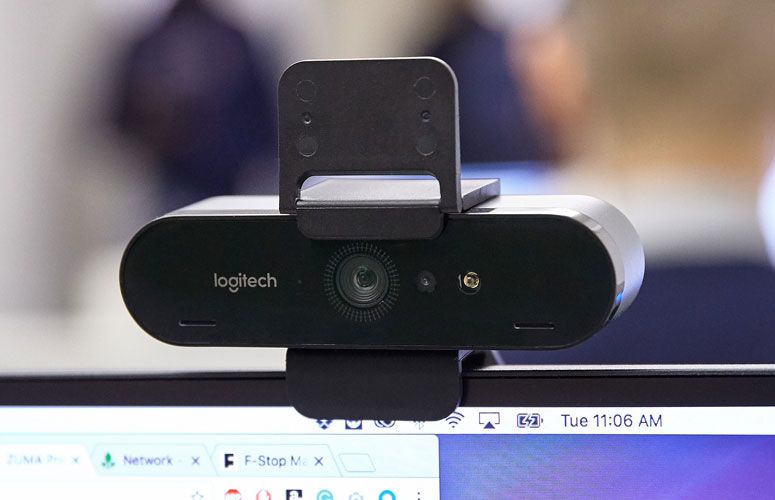 The Brio doesn't have too much going for it besides being the best clip-on 4K camera. For those who want the very best in image quality, this is the end of the line. In terms of portability, it's also very small and light.
It ticks all of the boxes for those who want the best for their portable gaming setup. But, it will cost you. This isn't a cheap camera, but at least you won't need another one for a long time.
Building the Ultimate Portable Gaming Rig at Under 9 lbs.
Now that we've got the pieces, lets put them together to create the portable gaming rig of your dreams.
Remember, the key is minimizing weight and work. You want to be able to haul your rig with ease and plug and play in a flash. With the following components, you'll be able to do just that:
1 Alienware gaming laptop – 4.5 lbs
1 Lumonitor 4K touch display – 1.3 lbs
1 Audeze Mobius headphones – 0.75 lbs
1 ZMI PowerPack power bank – 0.45 lbs
1 Logitech G305 mouse – 0.2 lbs
1 Logitech Brio 4K webcam – 0.14 lbs
1 laptop backpack with padding – 2.5 lbs
Total weight: 8.5 lbs
That weighs less than a couple 2 liters of soda!
There you have it. This is ALL you need to bring the power of your bolted-down desktop setup ANYWHERE on the planet. Your friends are always saying you need to get out more… now's your chance to show them how it's done!